With this month marking the first anniversary of the whole world changing, we've been reflecting on the challenges and triumphs of the last year. Here at New England Orthodontic Specialists, we've been proud to see our community come together, and we're proud of you for getting through the last several months with a smile on your face! One thing we've noticed is how hard it's been to find time for self-care even though we've been doing a lot less than normal. If you found yourself putting orthodontic treatment on hold in 2020, now is the perfect time to make a new smile your priority! To learn more about staying safe and healthy with Invisalign aligners during COVID-19, continue reading!
After the year we've had, you deserve a healthy smile, and we're here to help make that happen. Our practice offers a wide range of affordable treatment options, from traditional metal braces to Invisalign clear aligners. In fact, Invisalign has been more popular than ever in these uncertain times! Their clear aligner system has had some distinct advantages during the pandemic. This could be the perfect solution for your smile in 2021!
Extra freedom and flexibility
Traditional braces come with a bit of a learning curve, but with Invisalign, there's no need to change your daily habits! You'll still be able to eat and drink all the same things, participate in sports without taking any extra precautions, and continue to do just about anything you did before your treatment started. Because the aligners are nearly invisible, many people won't even realize you're in the process of straightening your smile. This is a huge plus for teen and adult patients who are image-conscious and looking for a more subtle way to straighten their teeth!
More comfortable fit
Lots of us have spent a year avoiding anything with a zipper, so comfort is ranking high on our list of must-haves right now. This is yet another area where Invisalign shines! Each aligner is made of a smooth thermoplastic material and custom-designed to fit firmly over your teeth. With no sharp or protruding edges to rub against your cheeks or gums, you'll be used to wearing your new aligners in no time.
Aligners are also much less likely to result in an orthodontic emergency. Instead of brackets and wires that can bend or break, Invisalign aligners are all one piece. They're designed to be durable and long-lasting without sacrificing comfort, but that doesn't mean they're indestructible. Improper handling can lead to your clear aligners cracking, tearing, or breaking. While some damaged aligners can still be worn until it's time for the next in the series, we may need to make a replacement. If you do damage or lose an aligner, you should let us know as soon as possible so our doctors can advise you on what you need to do next.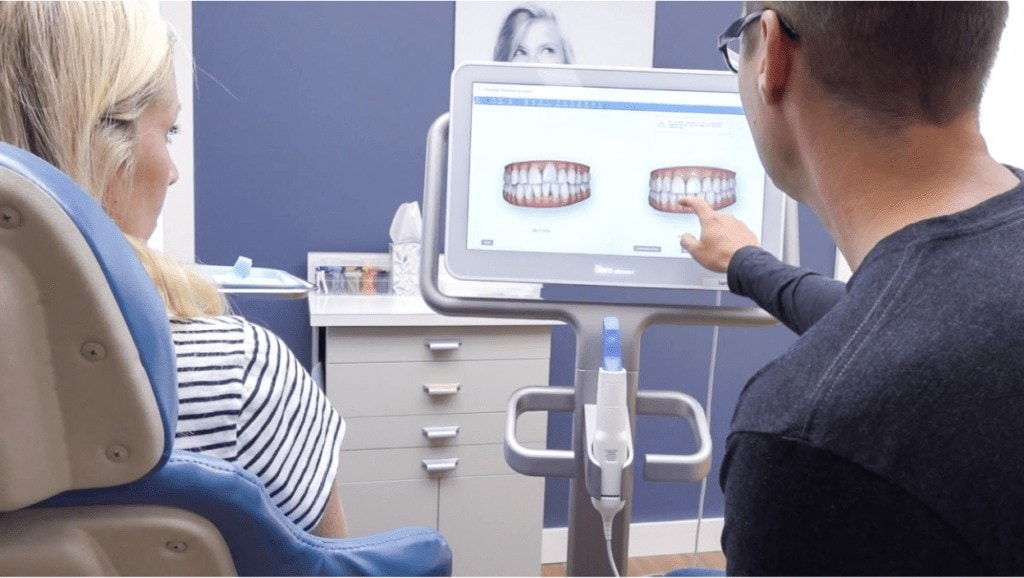 Straighten your smile without telling the world
One of the biggest benefits of clear aligners is how subtle they are. You're able to work towards an incredible new smile without having to tell anyone around you what's going on! You can continue going to work, get back to school, enjoy dating, or carry on your everyday life without many of the changes that can come with braces.
After spending so many months away from other people, clear aligners give you a chance to let your natural smile shine through once you begin meeting up with others again! Got a special occasion coming up? You can remove your aligners for short periods of time, so you don't need to feel self-conscious about senior photos, prom pics, or your wedding video.
Easy to adapt to
They may look very different, but braces and aligners actually work the same way. Both methods use an orthodontic appliance to put gentle pressure on the teeth, moving them into more desirable positions over time. There is a catch with Invisalign aligners, though! In order to produce the force needed to move the teeth, aligners must be worn for 20-22 hours every day and switched out for the next in the series every 1-2 weeks. This is what allows them to keep up with the movement of the teeth, and you'll be responsible for keeping up with the schedule. When you are compliant with these guidelines, aligners can work just as well as braces at correcting many of the most common orthodontic issues.
Our offices will normally provide patients with several weeks' worth of aligners at a time. This was very convenient when we were dealing with stay-at-home orders and social distancing! Even now, we're happy to arrange curbside pick-up for the next set of aligners if the current ones run out. Patients with questions can also choose to set up a virtual appointment to speak with one of our doctors and discuss their concerns if they'd rather not enter the office. These options allow every patient to feel safe and cared for while continuing their treatment process.
Simple to care for
From the very beginning of the COVID-19 pandemic, we've been told by all the experts to keep our hands away from our face and mouth to help limit the spread of germs. Unfortunately, patients in clear aligners can't avoid touching their mouth multiple times a day, which means it's more important than ever to practice good hygiene!
The good news is, it's easy to care for both your oral health and your aligners when you use Invisalign or our in-house system. The aligners are designed to be removed prior to eating, drinking anything other than water, and brushing your teeth. Before you remove your aligner, be sure to wash your hands with soap and water for at least 20 seconds. Pay careful attention to the fingernails and fingertips since these come into the closest contact with your mouth and aligners.
Remember that washing your hands is the first line of defense against germs and infection. This CDC video has helpful information on how to do so quickly and efficiently! If you aren't able to wash with soap and water for any reason, sanitizer with at least 60% alcohol can be used in a pinch. This concentration will be enough to kill most germs and bacteria on your hands.
It can be tempting to toss your aligners onto the nearest surface when you remove them, but you should always place aligners in a sealed container or leave them to soak in a cleaning solution when they're not in your mouth. This protects them from germs and also prevents you from accidentally throwing them away (which happens more often than you'd think!) Once you're done eating or your teeth are brushed and flossed, wash your hands again and rinse your aligner well before putting it back in your mouth.
It might sound like a lot of steps at first, but caring for your aligners will quickly become just another part of your daily routine. Being careful with your oral health and aligners will help protect your total body health, too!
Give your smile some TLC with New England Orthodontic Specialists
We may not be completely clear of the pandemic just yet, but hope is on the horizon and you don't need to wait another minute to embark on your journey towards a straighter smile. Invisalign is an exciting option for improving your oral health safely and effectively. Could your smile be a good fit for clear aligners?  Get in touch today to schedule your FREE consultation with our Beverly or Topsfield office and find out for sure!