Your First Visit
At New England Orthodontic Specialists, we believe that your first orthodontic visit is the most important one.
The first visit to a doctor's office can sometimes seem intimidating, especially for kids. But, your first visit to New England Orthodontic Associates will be completely painless.
At New England Orthodontic Specialists, we provide quality care and individualized attention. Your first visit is an important opportunity for us to get to know each other and answer any questions you have about your treatment.
Your Initial Exam
Our consultation appointments begin with an introduction to our office and staff. Once you feel comfortable, we can begin your initial examination.
The exam at your first appointment will be thorough and pain-free. After, we'll recommend a treatment plan based on your specific needs. During this comprehensive examination, Dr. Diana and Dr. Neil will determine if orthodontic treatment is appropriate. If treatment is indicated, diagnostic records, including photos, X-rays, and study models will be taken at your convenience.
Your exam may include the use of advanced diagnostic tools, such as digital X-rays and CBCT scans, which help us gather a better understanding of your oral health.
CBCT scans are particularly useful because they give us a three-dimensional look at your teeth, soft tissues, and underlying bone (all within a single scan).
We'll also review medical and dental histories to determine the best course of treatment. This review will help us catch any potential complications. Once your review and exam are complete, we can discuss the possible treatment options.
Consultations for Children
Children and teens are the ideal candidates for orthodontic treatment. The American Association of Orthodontists (AAO) recommends that all children receive an orthodontic evaluation by the age of seven.
This first appointment usually does not involve a treatment recommendation. Instead, we can decide which treatments may be appropriate later on. If treatment is not recommended upon initial exam, there may be a period of supervision or "recall."
During this time, appointments are made to monitor your child's growth, development, and the eruption of their teeth. No charges are assessed for these recall visits.
Many orthodontic problems are easier to catch and correct at an earlier age before all your child's permanent teeth have erupted. If we do recommend interceptive treatment, it can prevent greater complications and reduce the length of treatment in the long term.
Consultations for Adults
Adult consultations are a bit different. Before deciding on any type of orthodontic treatment, we have to check for any existing issues with your oral health. We may recommend a periodontal evaluation to check for any evidence of gum disease.
Gum diseases can weaken the periodontal tissues, making it much more challenging to move your teeth.
If you're in good oral health, we can move forward with orthodontic treatment. Your consultation is also a great opportunity to ask questions and voice and concerns.
Some of the most common questions include:
Is orthodontics appropriate for my situation?
What type of treatment do I need to correct the problem?
How long will my treatment take?
How much does treatment cost?
Will my insurance cover orthodontic treatment?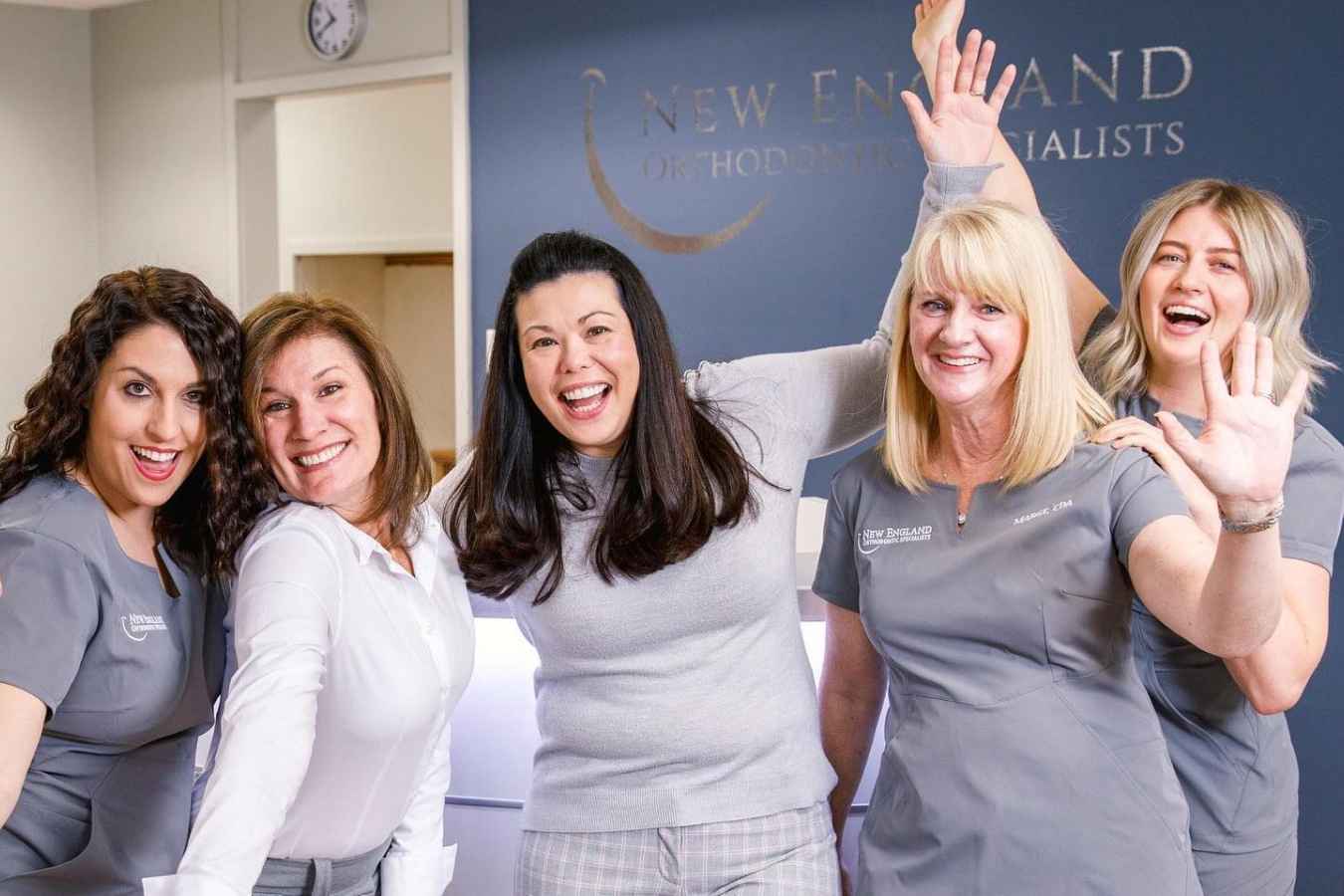 Start Your Treatment the Same Day
The orthodontic treatment process involves a series of orthodontic visits. We value the relationship that we'll build with you and your family throughout that process and want you to be confident that you're receiving the best orthodontic care possible.
Once you feel like we've answered all of your questions and concerns, you can start your treatment that same day. We value your time, and we know you want to make the most of your visit.
Ready For Your First Visit?
Have you ever thought of your teeth as crooked, gapped, or crowded? Has your child's dentist recommended seeing an orthodontist for misaligned teeth? If so, orthodontic treatment may be the ideal solution. Not only will orthodontic treatment give you straighter teeth, but it can also lead to lifelong benefits for your overall oral health.
Your first visit to New England Orthodontic Specialists will help clarify if you or your child needs orthodontic treatment. A consultation is an important step towards a healthier, better-looking smile. The best way you can learn more about our office is always in person.
Patient Forms
To save time at your initial consultation, please take a moment to fill out our new patient forms. If you have any questions, please contact our team and we'll be happy to help!
Insurance & Finances
Your Smile Should Be Affordable
At New England Orthodontic Specialists, we take pride in providing safe, effective, and affordable treatment for every member of your family. We understand that the financial side of orthodontic treatment can be confusing at times. To make things easier for you, we've fostered working relationships with the top insurance companies.
We also offer discount programs and payment plans for qualifying patients. Above all else, we want you to have a clear understanding of your financial and insurance options and responsibilities.
Flexible Payments
Even when they're happy or laughing, people with crooked or spaced teeth might avoid showing them. If you're one of these people, orthodontics has probably crossed your mind, but you may be afraid you can't afford it.
We get it! You're wondering how much all of this is going to cost. While orthodontic treatment costs will depend on your individual needs, we'll work with you to set up payments that fit your budget.
Some dental insurance does provide a benefit for orthodontic care. When you decide to move forward with treatment for yourself or a family member, our financial manager will discuss the amount of coverage your insurance company agrees to provide.
We're always willing to answer any questions about our financial policies or financing options before starting treatment. For your convenience, we do provide payment plans and also accept most major credit cards.
Insurance
Dental insurance can significantly reduce your out-of-pocket expenses. You need to review your insurance coverage since orthodontic treatment usually has a coverage limit. It's also important to properly fill out your new patient paperwork with any insurance information.
Submitting your paperwork in advance allows us to prepare your benefit materials before you receive treatment.
This includes any fees and co-payments dictated by your insurance policy. We are happy to work with your insurance provider and answer any questions you may have regarding your policy.
When working with insurance, it is important to note that you are solely responsible for fees and co-payments. Our team is happy to assist you when filing a dental or medical claim, but we ask that you follow our financial policy when payment is due.
Talk with our staff during your consultation to learn more about our financial policy.
Dental Insurance Plans
If you have insurance that does cover any portion of your orthodontic treatment, we're always willing to help you discover your benefits before you even come to your first free visit.
Here are just some of the insurance plans we work with:
Aetna
Anthem
Blue Cross / Blue Shield
Cigna
Delta Dental
GEHA
Guardian
Humana
Metlife
Principal
United Concordia
United Healthcare
And more!